Welcome to Khalsa Primary School
KINDNESS | HONESTY | ACHIEVEMENT
LOVE | SERVICE TO OTHERS | ASPIRATION
Welcome to Khalsa Primary School
KINDNESS | HONESTY | ACHIEVEMENT
LOVE | SERVICE TO OTHERS | ASPIRATION
Welcome to Khalsa Primary School
KINDNESS | HONESTY | ACHIEVEMENT
LOVE | SERVICE TO OTHERS | ASPIRATION
Welcome to Khalsa Primary School
KINDNESS | HONESTY | ACHIEVEMENT
LOVE | SERVICE TO OTHERS | ASPIRATION
Welcome to Khalsa Primary School
KINDNESS | HONESTY | ACHIEVEMENT
LOVE | SERVICE TO OTHERS | ASPIRATION
On behalf of the children, staff and trustees, welcome to Khalsa Primary School.
We are part of the Sikh Academies Trust and welcome children from all backgrounds, cultures and starting points so that we can support them to learn, thrive and grow into exemplary citizens who make a positive contribution to our world.
Khalsa Primary school is an oversubscribed school with pupils on a waiting list which has doubled over the years. Our aim is to offer our pupils the best possible education which goes beyond the classroom. We have a firm belief that there should be no glass ceiling and all our pupils should achieve the highest possible academic excellence no matter what their starting points or needs.
Through providing a world class education and embracing our values, we work together with the school community  to inspire our pupils to not only want to achieve highly but also to have a deep desire to make a positive contribution to our world- creating our very own world changers. Having high aspirations for our pupils was also recognised in our Outstanding Ofsted report, 'Pupils respond to teachers' very high expectations with gleeful enthusiasm and give all activities their full commitment and concentration. They become confident learners, achieve exceptionally well and are very well prepared to become exemplary citizens.' (Ofsted January 2020)
We use the National Curriculum for England as a starting point to develop our very own world class curriculum which is carefully sequenced from Nursery to Year 6. We are passionate about offering every child every possible chance to succeed and both discover and further nurture their talent and skills. To do this, we provide a diverse range of learning, enrichment and extra-curricular opportunities appropriate to each child's age and unique stage of development.
We would love to invite you to learn a little more about what makes us one of the best schools in the area. Step inside our wonderful school to explore our facilities, meet our talented and nurturing staff and discover the high quality learning opportunities.
Mrs P. Dhaliwal
Headteacher – Mrs P. Dhaliwal
Our core
K

halsa Values

Kindness, Honesty, Achievement, Love, Service to others and Aspiration, drive us to be exemplary citizens and to help  make a positive contribution to the world.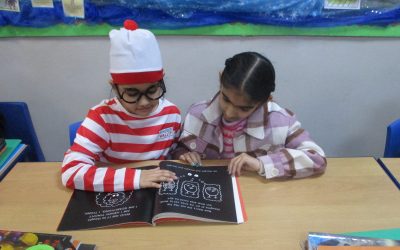 We celebrated World Book Day and all around the school, children had lots of different fun activities planned by teachers! We also had a visiting author, James Bishop, the author of the 'Iguana Boy' series for KS2 and for KS1, we had webinar with the author of...